OpenProject 12.2.0
Release date: 2022-08-15
We have now released OpenProject 12.2.0.
This new release brings the long-awaited Nextcloud integration. No more spending hours searching for the right version of the right file! With OpenProject 12.2, you can easily find your project-related files (stored in Nextcloud) directly from the relevant work packages and always have the correct version at your fingertips. Data sovereignty remains a strong common ground between Nextcloud and OpenProject and this integration strengthens our collaboration while improving the productivity of our users.
Addtionally, this release introduces improvements to the date picker, the possibility to log time for other users and mark work packages with notifications as read outside of notification center.
As always, this release also contains many more improvements and bug fixes. We recommend updating to the newest version as soon as possible.
File management with Nextcloud
With OpenProject 12.2, you can now use Nextcloud, the world's most-deployed on-premises content collaboration platform, together with OpenProject, the leading free and open source project management software, to combine project management and file management. Data sovereignty and open source are important core values to both OpenProject and Nextcloud and form the foundation for this integration.
We believe the productivity of users of both platforms will increase significantly as a result of this integration.
In OpenProject: In addition to listing files attached to a work package, the Files tab now also shows you Nextcloud files that are linked to the current work package, allowing users to ensure they always have the latest version at hand. Secondary actions on each file allow you to directly open or download the file, show the containing folder in Nextcloud or remove the link.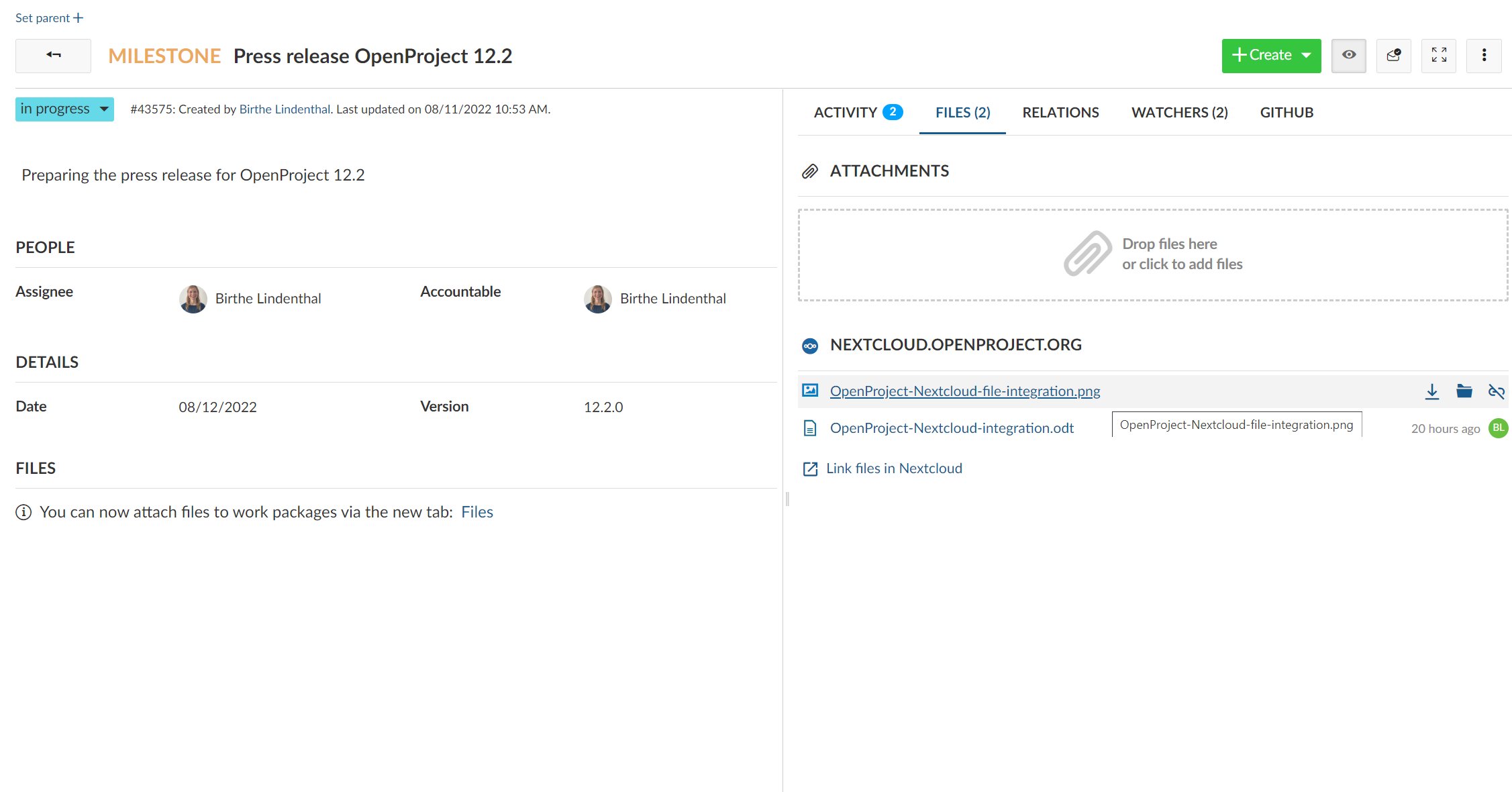 In Nextcloud: You will be able to access the OpenProject tab in Nextcloud by accessing the details split screen of any file. In this tab, you will be able to search for the work package(s) to which you would like to add a link to the current file. Once a work package is linked to a file, you can always unlink it by clicking on the unlink icon.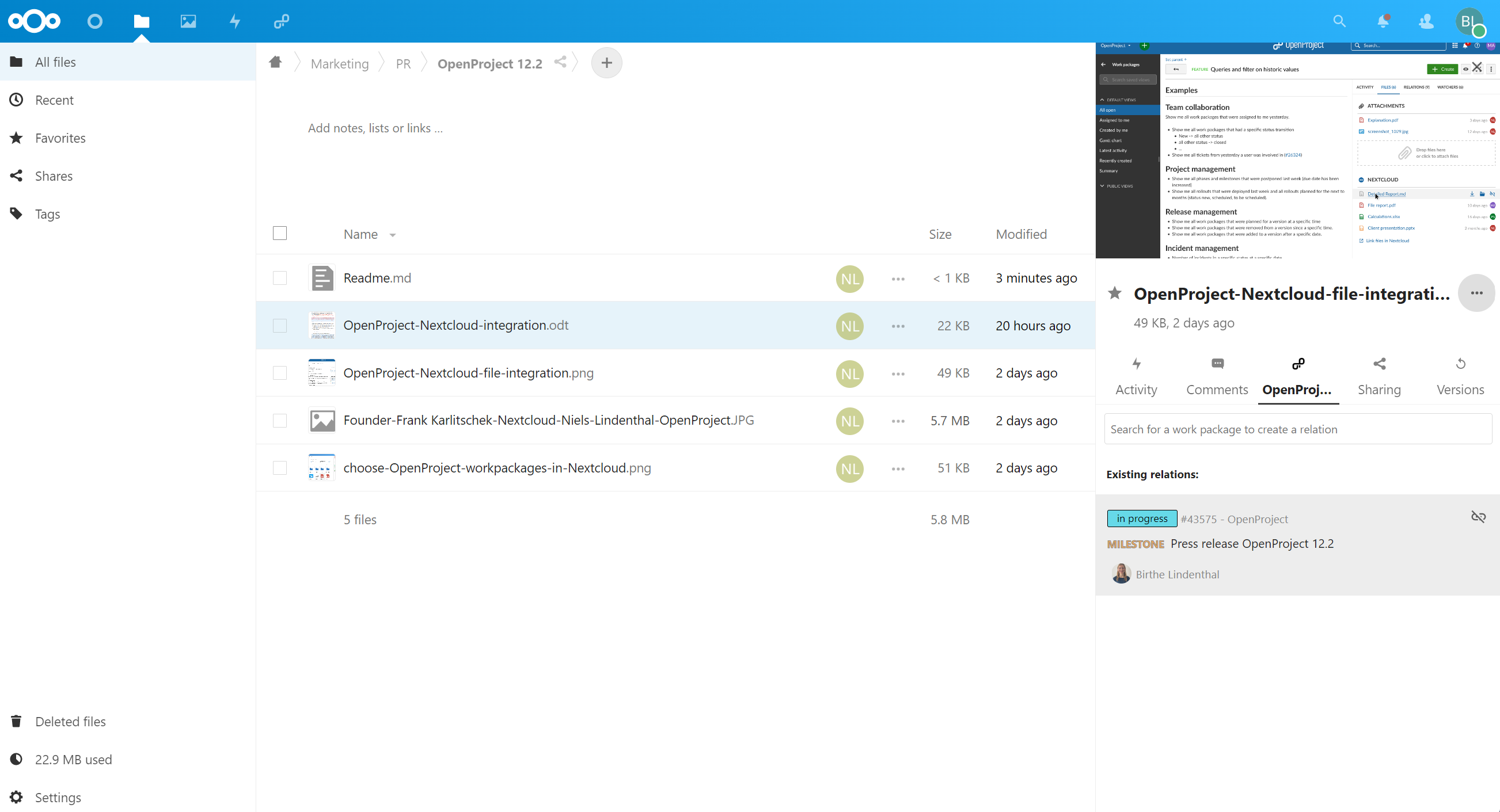 Further integration efforts are under way, notably to make it possible to create links to Nextcloud files from directly from OpenProject (it is currently only possible via Nextcloud) and adding complete project folders.
You can find out more how to use the Nextcloud integration as well as the how to setup the Nextcloud integration in our documentation.
Contextual information and warnings when scheduling work packages
For OpenProject 12.2, the team has worked on improving the date picker to give you more clarity when scheduling work packages. To choose automatic or manual scheduling mode, the selection box moved to the top of the date picker to be more visible. We are also introducing information and warning banners that provide important contextual information before modifying dates of work packages that have relations with other work packages.
Blue banners will indicate information that maybe be helpful (such as if the work package's dates are automatically derived from relations, or if available date ranges are limited by relations) and orange banners will warn of possible consequences to other work packages (existing relations being ignored as a result of enabling manual scheduling, or the dates of related work packages changing as a result of changes to the current work package).
Additionally, a new "Show relations" on these banners allows you to quickly generate a Gantt view showing all directly related work packages in hierarchy view, so you can preview which work packages might be affected before making a change.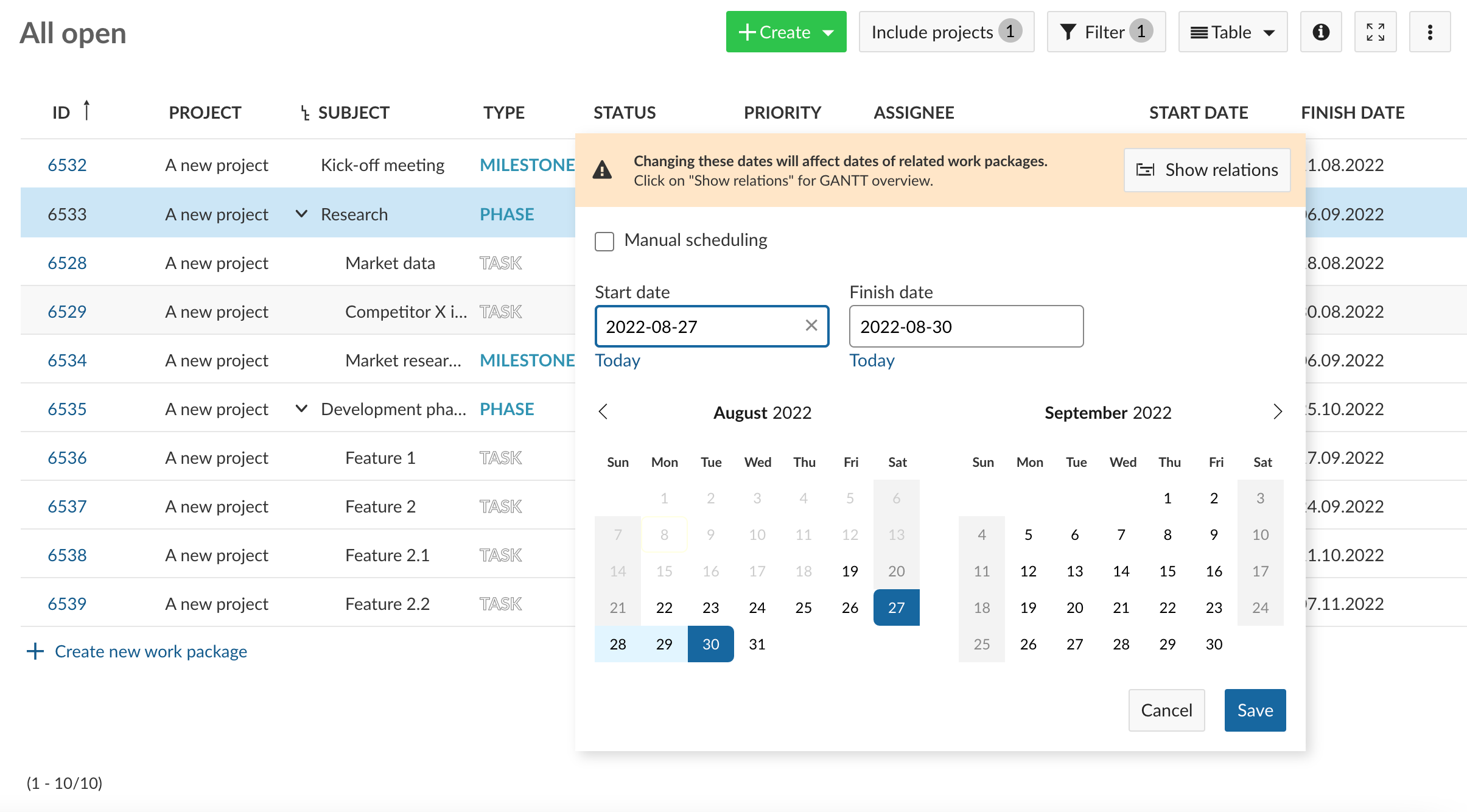 Find out more about how to set and change dates with the improved date picker in our documentation.
Log time for other users
OpenProject 12.2 gives an administrator the possibility to grant permissions to log time for other users. With the required permissions, you can now select the team member for whom you want to log time from a drop down.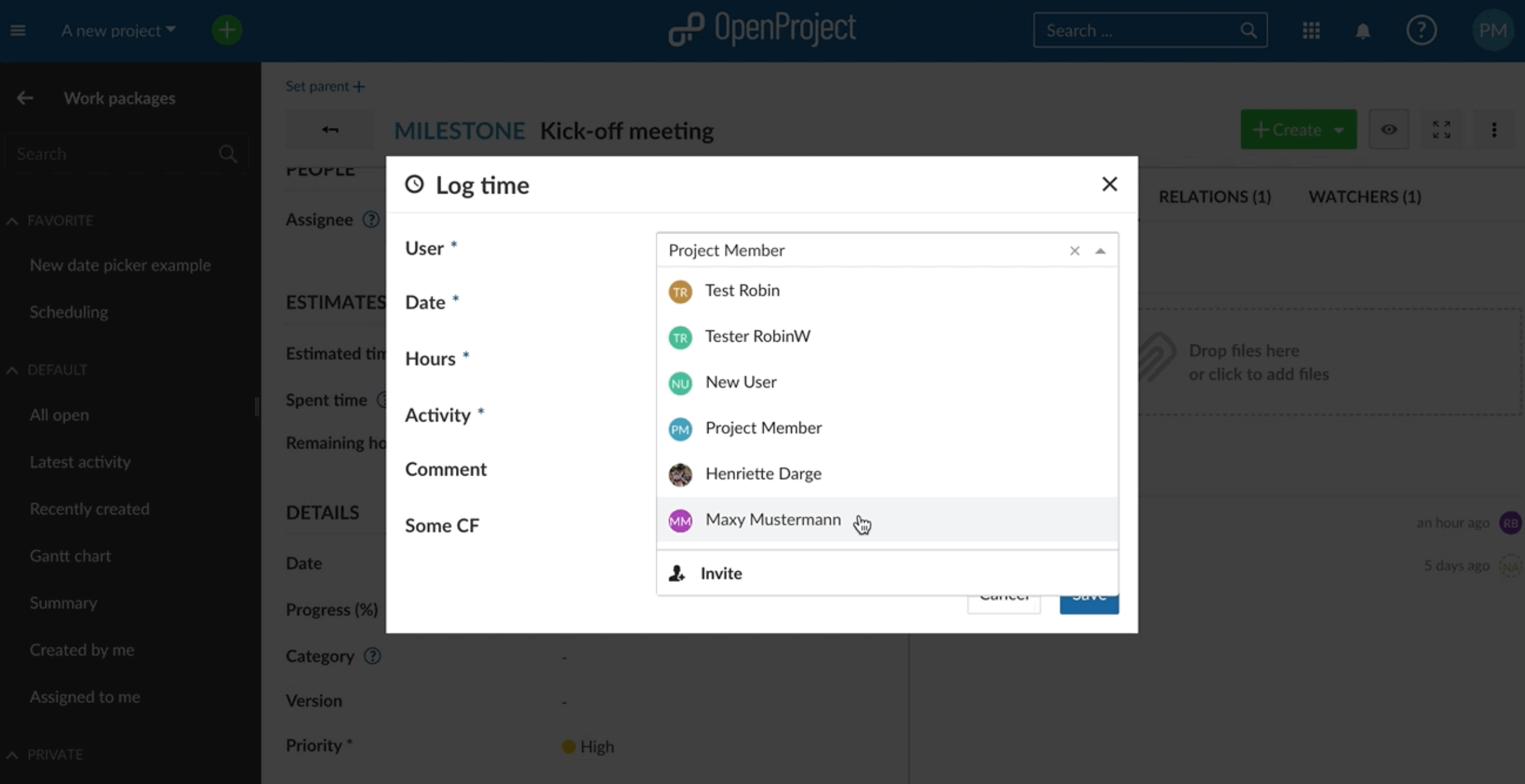 Find out more about logging time for other users in our documentation.
Improved navigation bar
When you open the project drop down from the header menu to view all projects, you are now also able to create new projects, simply by clicking on + Project.
To view all available projects, simply click on the Projects list button at the bottom of the modal.
Mark notifications as read outside of Notification Center
In OpenProject 12.2, you are now able to mark work packages with notifications as read also in the work packages details view by clicking on the Mark as read button on the top right toolbar.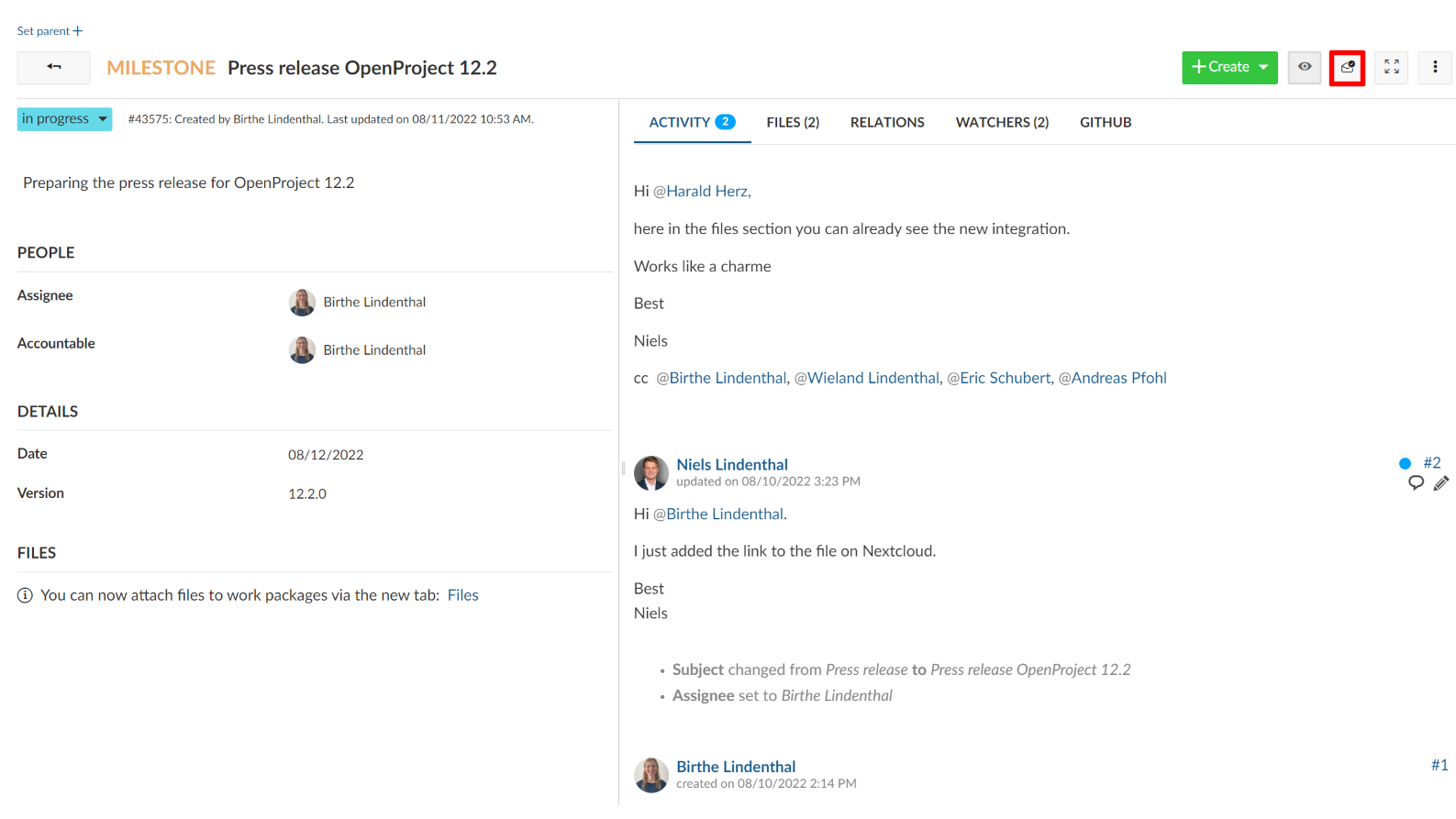 o
Deprecations and breaking changes
Changed settings for HTTPs management
In 12.2, the way settings are being handled for controlling HTTPs mode of OpenProject have changed. In case of a packaged installation, the configuration from the packager wizard will result in the correct configuration.
For docker you will need to set the environment variable OPENPROJECT_HTTPS=false if you actively want to disable HTTPS mode.
For more information, please see the respective installation pages:
List of all bug fixes and changes
Contributions
A big thanks to community members for reporting bugs, helping us identify issues and providing fixes.
Special thanks for City of Cologne and University of Duisburg-Essen for sponsoring the development of the Nextcloud integration.
Special thanks for reporting and finding bugs go to kak tux, Karl Sebera, Christina Vechkanova, Ulrich Germann, Kiran Kafle, Alexander Seitz, Max Chen, PD Inc Support, Rince wind, Simon Rohart, Sander Kleijwegt, Sreekanth Gopalakris.
A big thank you to every other dedicated user who has reported bugs and supported the community by asking and answering questions in the forum.
A big thank you to all the dedicated users who provided translations on CrowdIn.