OpenProject 10.0
OpenProject 10 introduces drag and drop ordering of work packages in the work package table and Gantt view. The project overview dashboard has been completely rewritten to provide a modern and flexible overview of the project. In addition, work package description and custom fields now have task lists you can create and manage within the CKEditor5 WYSIWYG editor. A new card view on the work package page provides quick overview of the tasks. Users of the Enterprise cloud and Enterprise on-premises benefit from graphs which can be included in the project overview page.
Read below to get a detailed overview of what is new in OpenProject 10.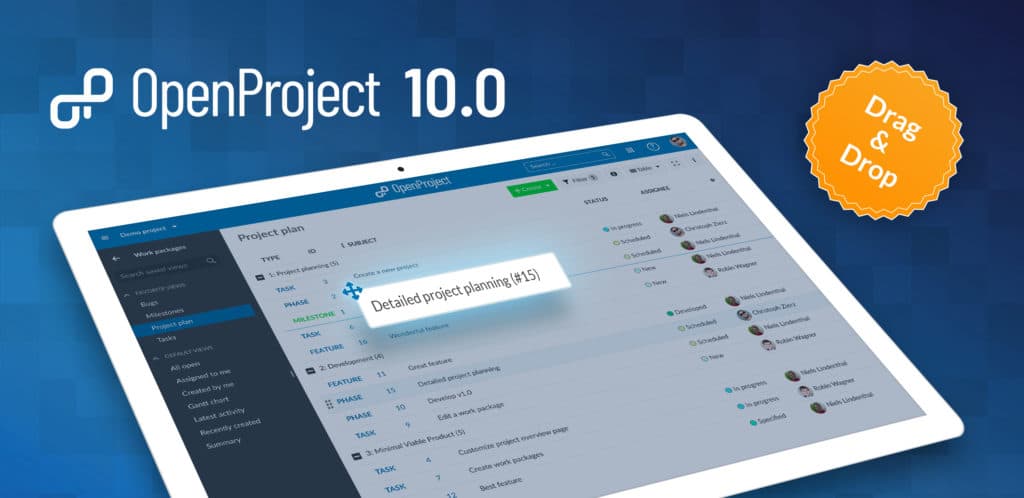 Drag & drop (manual sorting) in work package table
OpenProject 10 adds drag and drop to the work package table. You can easily change the work package order by simply dragging a work package to a desired place.
This also allows you to change a work package's hierarchy (e.g. by dragging a work package from the first hierarchy level below an existing work package).
When you group the work package table based on an attribute (e.g. the assignee, project or status), you can easily change an attribute by dropping a work package to a different group. Want to change the assignee? Simply drag and drop a work package to a different assignee group.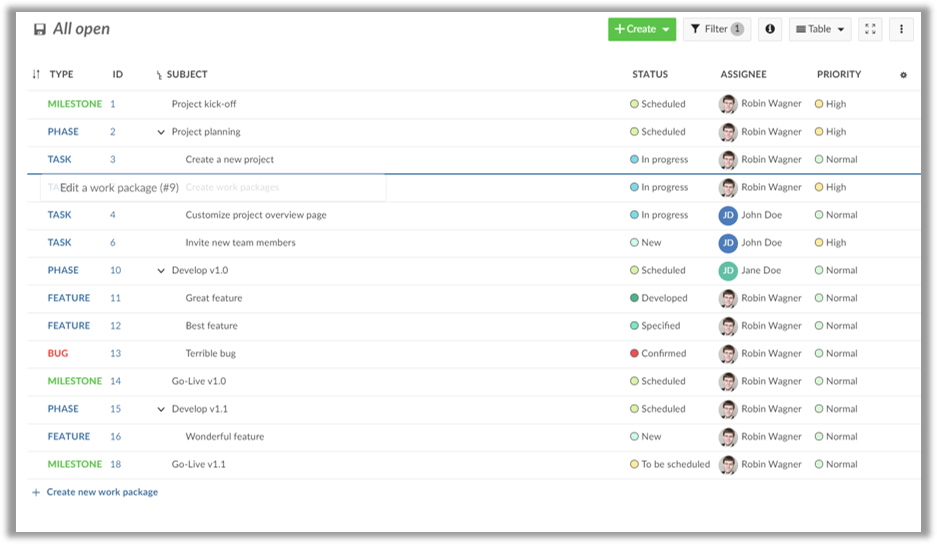 Card view for work packages
The work package view is extended in OpenProject 10. In addition to the list view and the Gantt chart view, it is possible to display work packages in a card format.
This provides an easy visual overview of the tasks in a project. Simply activate the details view to see more information about a work package.
Updated Project Overview
OpenProject 10 introduces an updated project overview page. You can now easily add, edit and remove widgets - directly from the project overview page.
Freely configure how many columns are displayed on the project overview page.
The overview pages of users upgrading from earlier versions to OpenProject 10 will be updated automatically.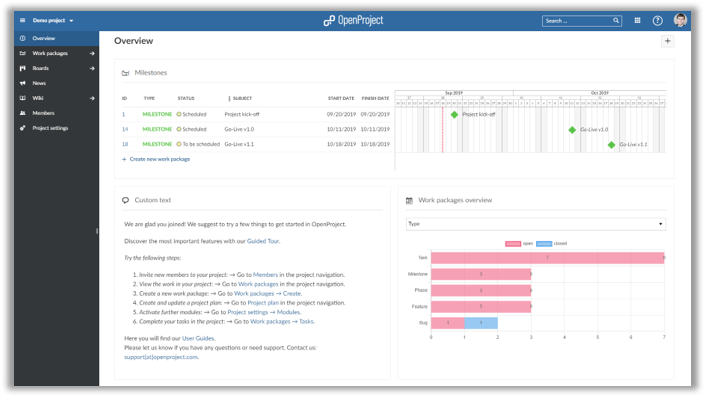 Graphs on project overview page (Enterprise add-on)
As a user of the Enterprise cloud or Enterprise on-premises, you can add graphs to the overview page. This enables you to visualize important project information - directly form the project overview page.
Therefore, you can quickly communicate e.g. who is assigned to which work packages, how many tasks are still open and more. To give you maximum flexibility, you can choose from seven different types of graphs, such as bar charts, pie charts and line graphs.
As a result, you quickly see your project's status and can act accordingly.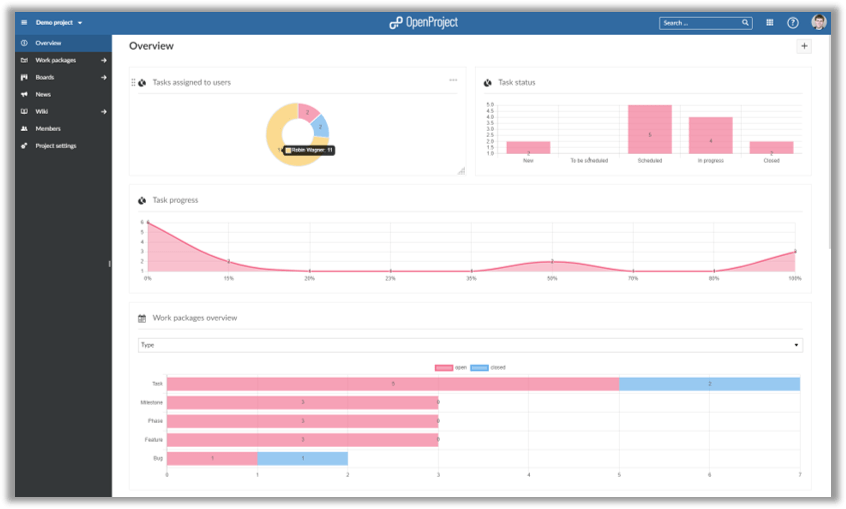 Updated administration menu and structure
The administration area is completely remodeled in OpenProject 10. Due to the changes, the administration menu is much more clearly structured.
Additionally, the administration overview page now highlights the different admin entries for quick access.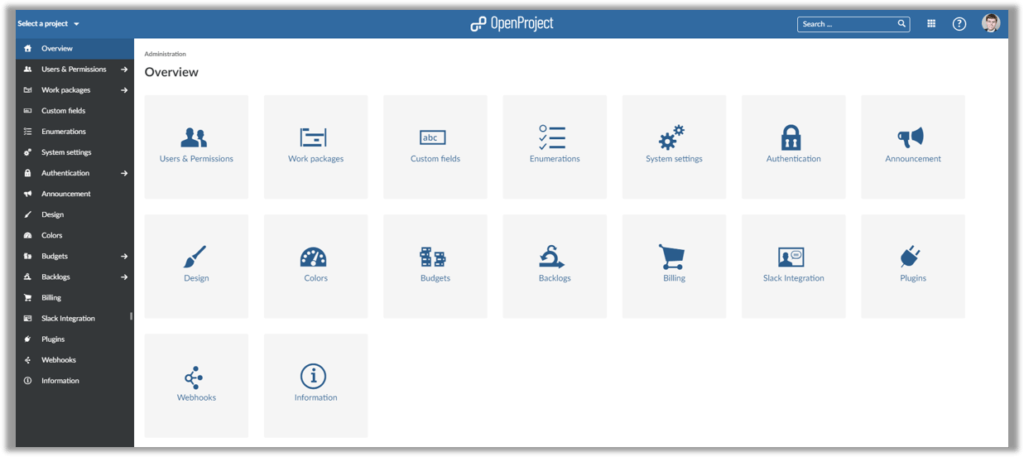 Checkbox lists
You can easily add checkboxes in order to create to do lists to wiki pages, work package descriptions and many other pages which support the wiki syntax.
Afterwards, you can easily check off items which have been completed to keep track of your work.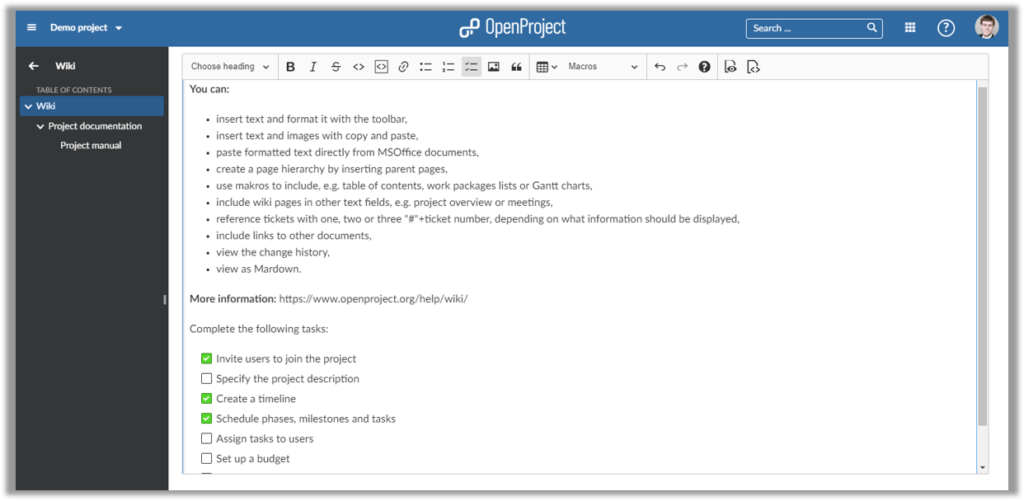 Sticky toolbar for WYSIWYG editor
The toolbar for wiki pages is now fixed at the top and no longer scrolls along with the page. Thus, you can easily edit even long texts on a wiki page without having to scroll up and down.
Performance improvements
OpenProject 10 significantly improves the performance, especially for the work package page. Due to description caching work packages are loaded swiftly.
Bug fixes and changes
Support
You will find useful information in the OpenProject FAQ or you can post your questions in the Forum.
Upgrading your installation to OpenProject 10.0.
If you're using the OpenProject Enterprise cloud edition, you are already running on the latest version of OpenProject 10.0. For your local installations, there are some minor changes you need to do in order to perform the upgrade.
Please visit our upgrade guides for more information.
Credits
Special thanks go to all OpenProject contributors without whom this release would not have been possible:
All the developers, designers, project managers who have contributed to OpenProject.
Every dedicated user who has reported bugs and supported the community by asking and answering questions in the forum.
All the engaged users who provided translations on CrowdIn.
What's next?
We are continuously developing new features and improvements for OpenProject. The next release will contain a dashboard and reporting view for OpenProject and also allow to communicate the project status using a traffic light. Take a look at the release timeline to see the upcoming features and releases.
To stay up to date with the recent development, feel free to follow OpenProject on Twitter and like OpenProject on Facebook.