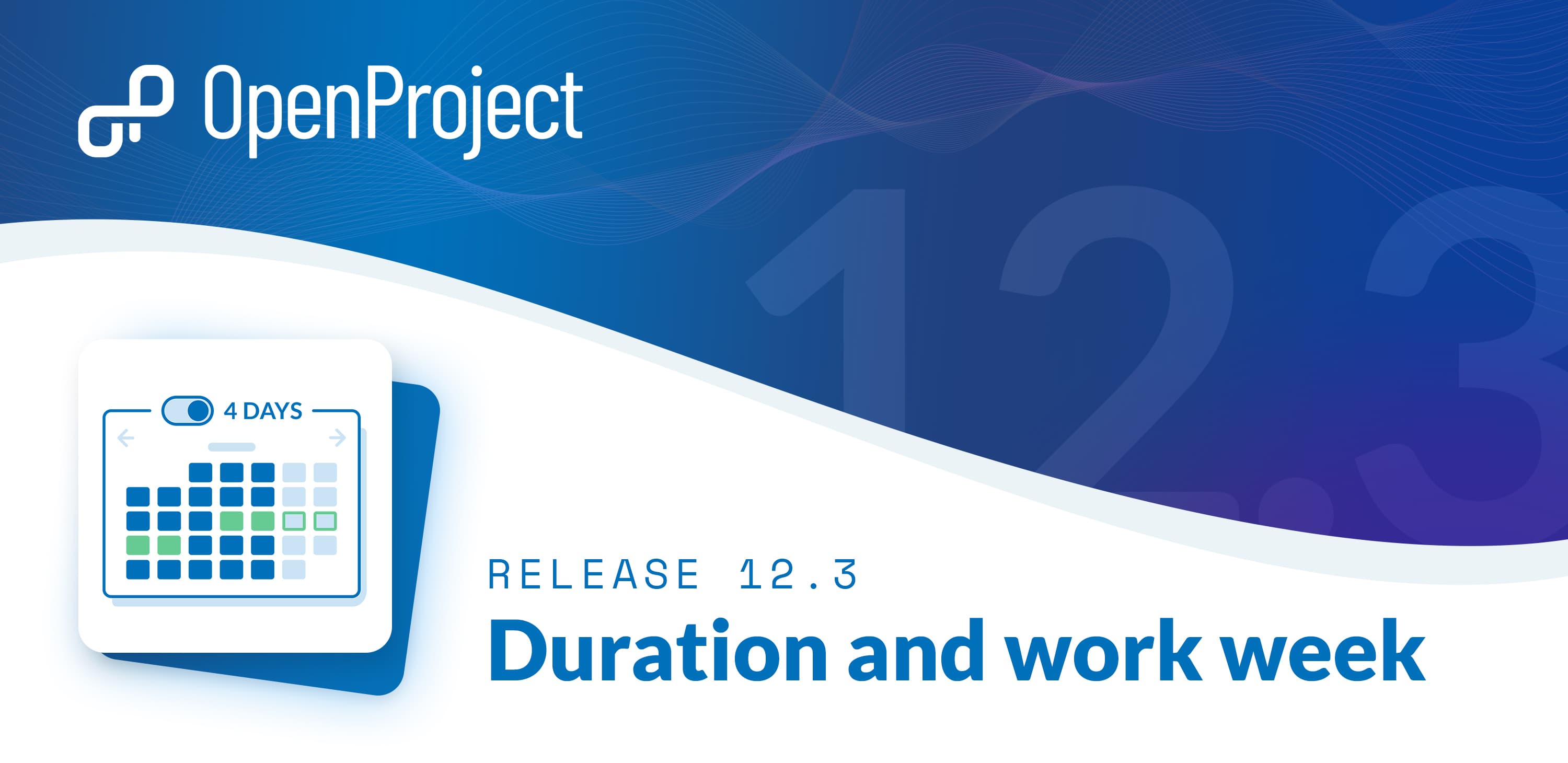 PRESS RELEASE OCTOBER 10, 2022

OpenProject 12.3.0 introduces the global work week and duration for work packages
Berlin, October 10, 2022 – OpenProject, the leading web-based open source project management software announces the release of OpenProject 12.3. The new version improves the way of scheduling with the introduction of a global work week and duration of work packages.
Improved scheduling
OpenProject 12.3 significantly improves one of its core functionalities. Work packages can now be scheduled considering weekends and non-working days.
Administrators of OpenProject can define a global work week, i.e. weekends and non-working days. This means, OpenProject now considers these days free when scheduling new work packages. The default setting for the global work week is Monday-Friday, Saturday and Sunday are considered weekend. Of course, this can be adjusted as needed.
OpenProject 12.3 also enables setting the duration for work packages. Users can now set either start or end date and the duration of a work package and thereon the corresponding other date will be calculated automatically and considered in the planning. Also, the duration is set based on a start and end date. Changing dates will update the duration, and updating the duration will set a new finish date.
Considering the defined work week, an improved date picker now allows to switch between a mode to consider working days only or to include weekends and non-working days in the planning. This prohibits work packages to start or end on a non-working day.
More features in 12.3
The new release also adds more meaningful tooltips to the most essential actions in OpenProject. It is now even easier to determine what lays behind the different items, such as icons or buttons. Copying a project will now also copy file links attached to all work packages. This makes it easier to keep the links to these documents in work packages.
Among other topics, OpenProject will add in the next release the ability to manually configure non-working days that affect all users, e.g. for holidays.
Information on all new features and changes can be found in the release notes.
About OpenProject
OpenProject is a free and open source project management software and is released under GPLv3. OpenProject supports both classic project management and agile project management. The community version is available for free and can be installed via .deb and .rpm packages as well as Docker images. A completely manual installation is also possible. For enterprise customers, Berlin-based OpenProject GmbH offers a hosted Enterprise cloud version as well as an on-premises version, both with support, Enterprise add-ons, and additional security features.
Organizations across all industries and sizes use OpenProject due to its high commitment to data protection and information security. These are of central importance to OpenProject and are one of the main motives for the development of this open source software. OpenProject aims to become a lighthouse project for "Data privacy made in Europe". Find out more about OpenProject on openproject.org or follow @openproject on Twitter.
Links
Press Contact
Birthe Lindenthal
Head of Marketing and PR
Phone: +49 30 288 777 07
b.lindenthal@openproject.com
GPG: 147F B27A C5C6 05CB 32A4 8D58 F6D8 29F4 BB22 B522