Project collaboration software to keep your team connected
Collaborate independently of location and keep everyone up to date.
Team collaboration software
Stay informed and connected with your team
OpenProject allows you to access all information in a web-based system. From meetings to a knowledge database, everything is organized and available at one central place.
Communication between team members is easy, you can keep team members up to date, share information, and notify them about changes.
Integrate a file storage to collaborate on and share project files.
Communication
Sharing information made easy
OpenProject as a web-based project management software has different features to share information and keep all team members up to date with the latest project developments.
File storages
Integrate your file storages to easily share and collaborate on project files.
Easily share and collaborate on project-related files with the Nextcloud integration. Have all your files in one central project folder and automatically manage access for all team members.
Wiki
Collaboratively create and communicate project information
Collaboratively create and maintain a project wiki. Manage project documentation, references, guidelines, user manuals, and much more at one central place and create a knowledge base for your projects and share it with your team and other stakeholders.
You can easily insert, edit and format texts (e.g. copy and paste from Word), include tables, pictures, links, and other references to OpenProject (e.g. work package tables, Gantt charts or tickets). You have all changes at one sight, or export texts (e.g. in Markdown). You can create a detailed navigation structure with a side menu, table of contents, and site hierarchies.
Project Activity
See at a glimpse all changes in the project
In the Activity module you will see at a glance what has changed in the project.
The work packages Activity tab displays all updates and comments to a work package to get a quick overview about the changes.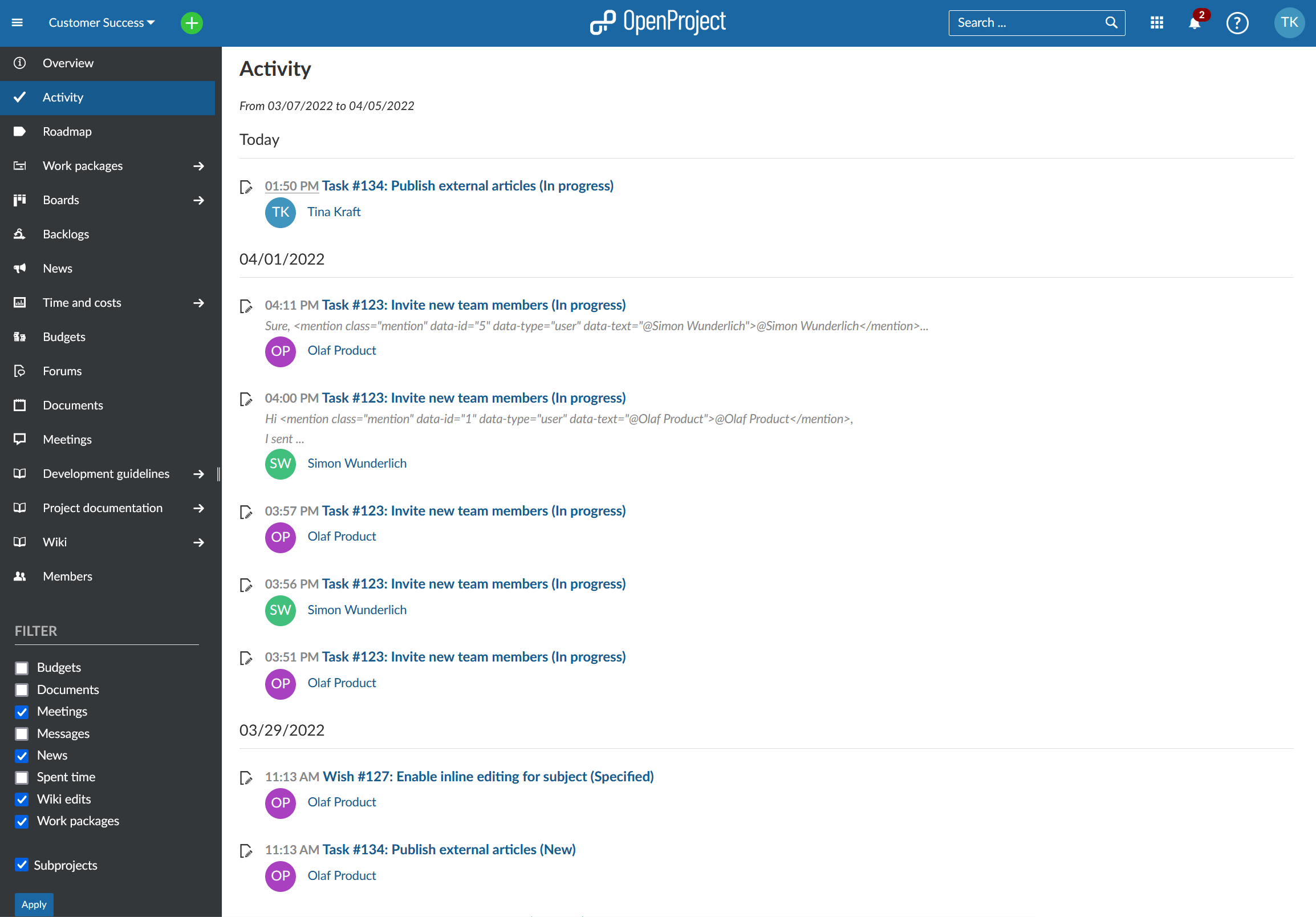 Forum
Discuss topics in a forum
Create different forums in a project and discuss the topics with your team. Post questions and add your comments and document answers.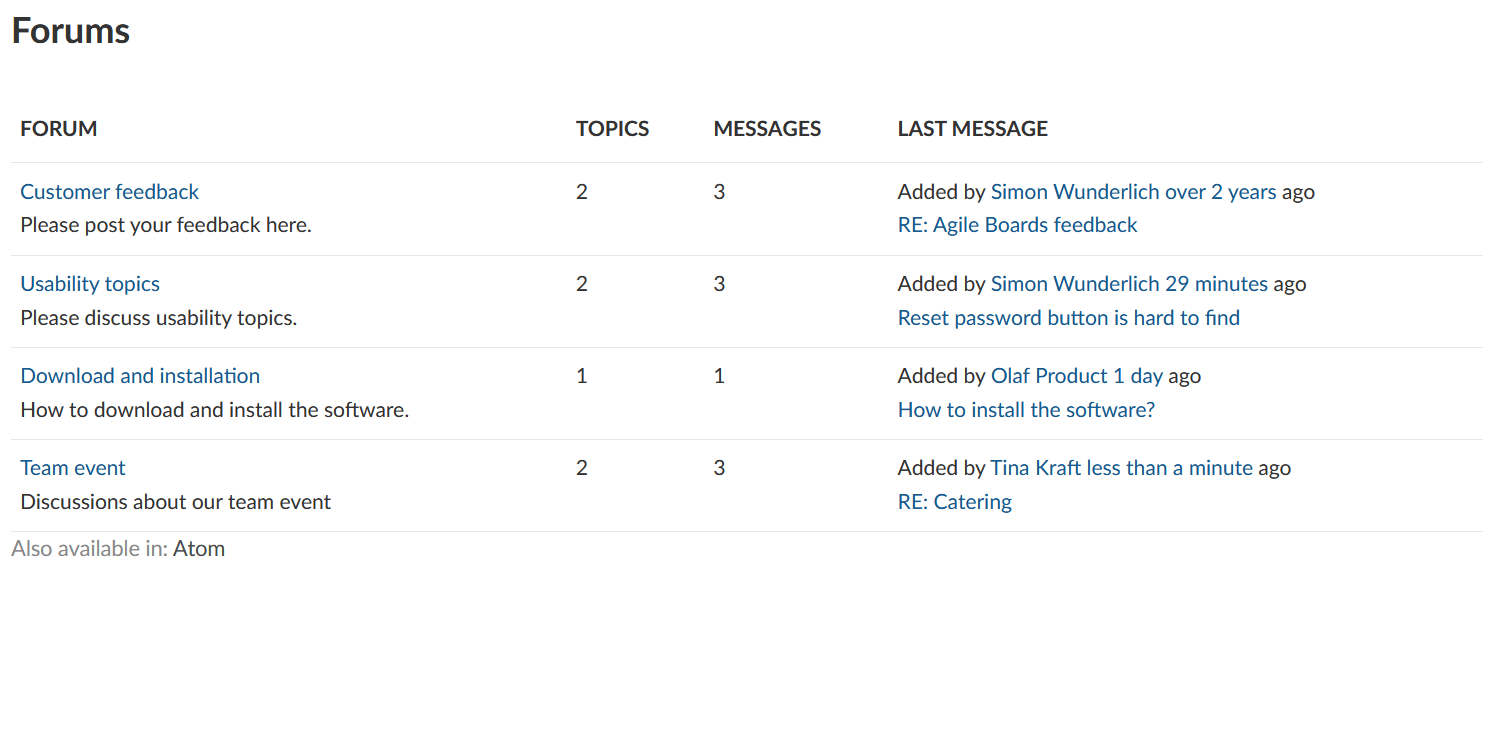 Project news
Distribute project news to your team
Create and send around news to your project team about relevant updates in your project, comment on it and link to other relevant project information.
News can be included directly on the project overview page to have an overview about the latest updates.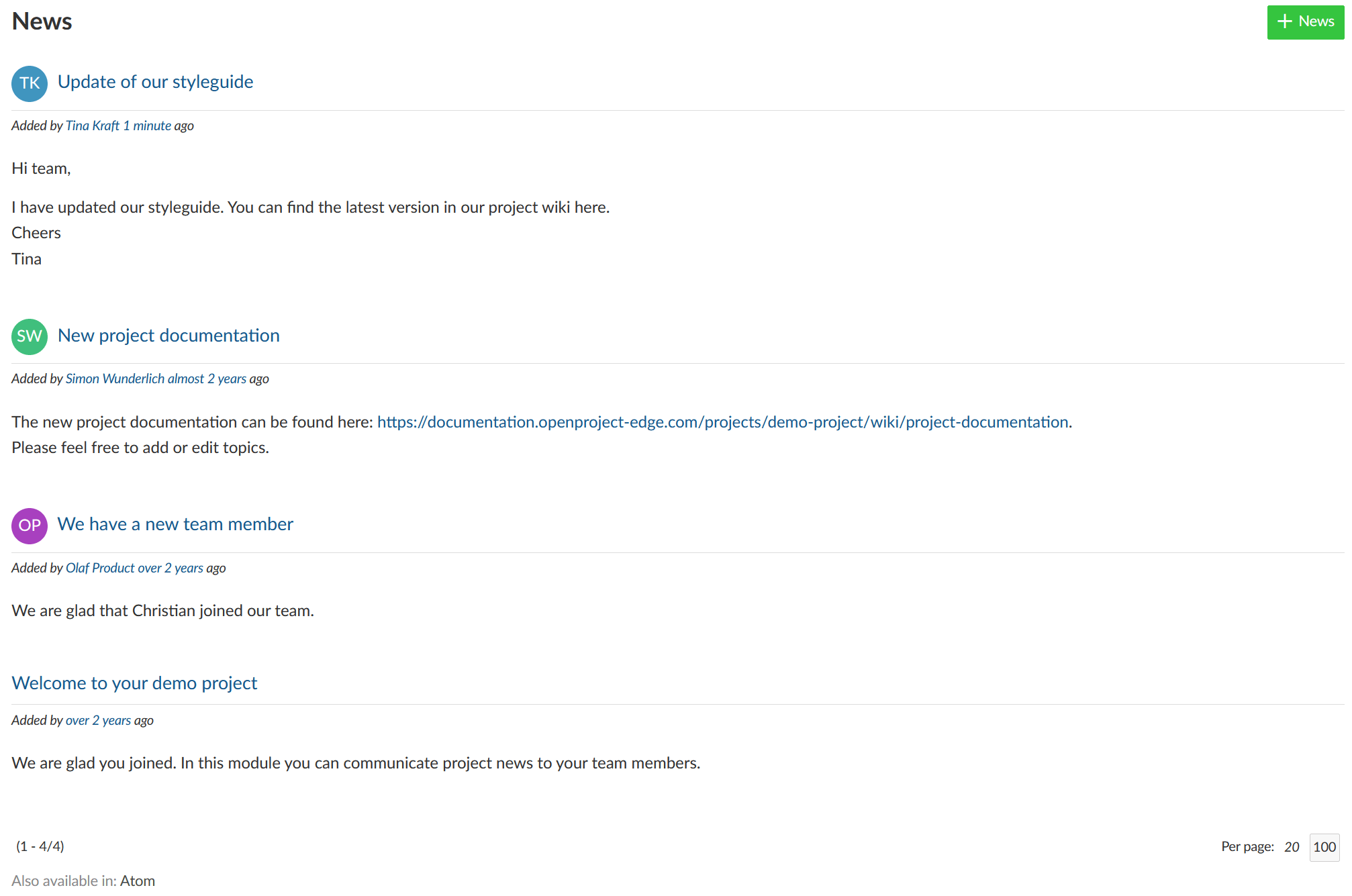 Meetings
Create and share meeting agenda and minutes
Meetings in OpenProject allow you to manage and document your project meetings in one central place, prepare a meeting agenda together with your team and document and share meeting minutes with your meeting attendees.
More features
More powerful features for your project management