Leider ist dieses Dokument derzeit nur in englischer Sprache verfügbar. Wir arbeiten an einer Übersetzung, vielen Dank für Ihr Verständnis!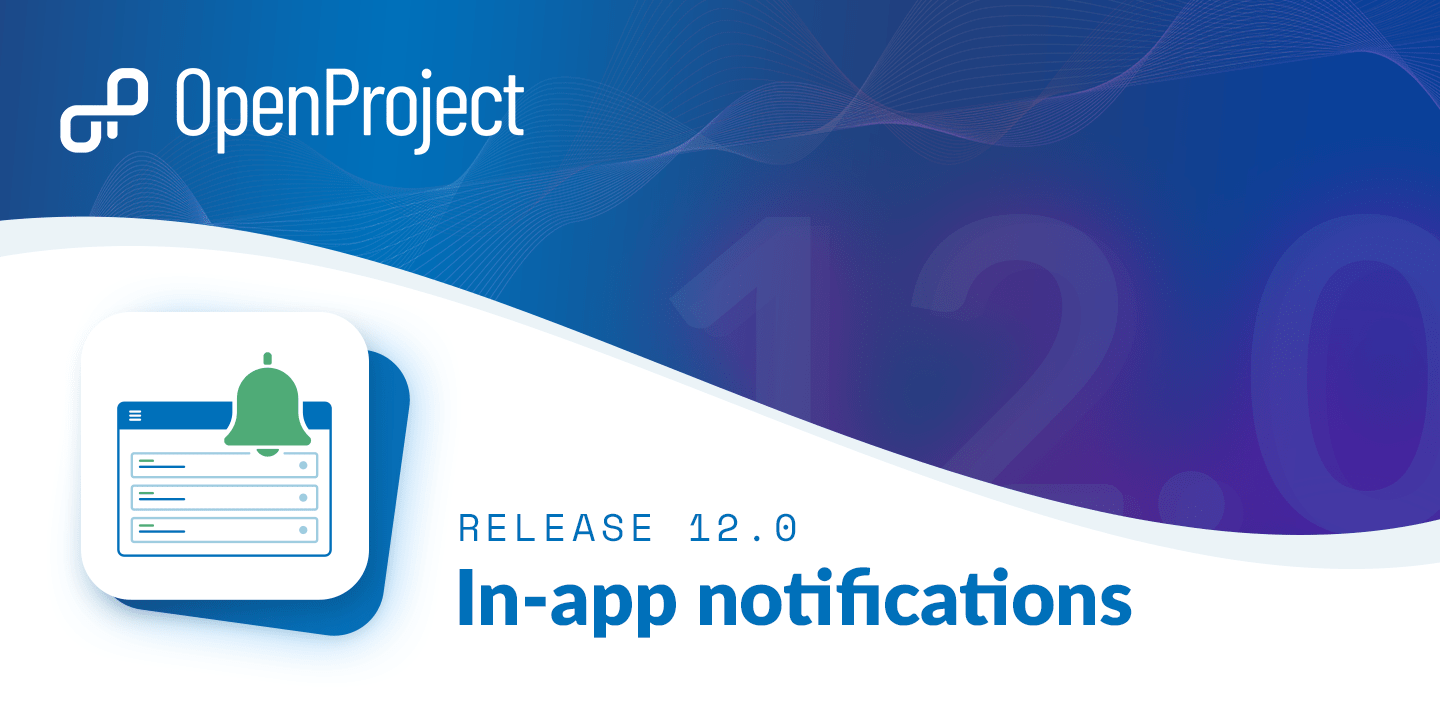 PRESS RELEASE 15th November 2021

OpenProject 12.0.0 introduces in-app notifications
Berlin, November 15, 2021 – OpenProject, the leading free and open source project management software announces the release of the OpenProject 12.0. With 12.0, OpenProject introduces in-app notifications, which significantly changes the way how users work in OpenProject. In-app notifications have been the top voted feature request from the Community. With the new release, notifications are now displayed directly in the system. A new bell icon in the header navigation clearly indicates the number of unread notifications. Previously, the system sent email notifications, which often resulted in a flood of emails in the user's inbox.
The icon in the header takes the user to a new notification center. Here, all notifications in the project are displayed in which a user is involved. Immediately you can see all updates, comments, or direct notifications from other project members. In the notification center, you can filter by the type of involvement in a change, for example, whether you were mentioned via the @ function, whether a task was assigned, or you are watching it. Furthermore, the notifications can be displayed filtered per project. By clicking on a message, the details of a work package can be directly displayed in a split-view, edited, or commented without losing the context. Additionally, a number in a blue bubble now indicates the number of unread notifications within a given work package.
Improved notification settings will now also make it possible to specify exactly for which actions in which projects a notification should be created. With 12.0, even project-specific settings for updates are now possible, overriding the default notification settings.
In addition to in-app notifications in OpenProject, email reminders can also be configured to receive a summary of relevant updates at specific times on freely selectable days. Users can also opt to receive information about additional changes to their projects in the email summaries, such as for adding new project members or creating a new wiki page.
Furthermore, with version 12.0, the official support for PostgreSQL versions < 13 will be discontinued. This will result in a warning about the necessary migration. The company will provide migration instructions.
Information on all new features and changes can be found in the release notes.
About OpenProject
OpenProject is a free and open source project management software and is released under GPLv3. OpenProject supports both classic project management and agile project management. The community version is available for free and can be installed via .deb and .rpm packages as well as Docker images. A completely manual installation is also possible. For enterprise customers, Berlin-based OpenProject GmbH offers a hosted Enterprise cloud version as well as an Enterprise on-premises version, both with Enterprise add-ons, additional security features and support.
Organizations across all industries and sizes use OpenProject due to its high commitment to data protection and information security. These are of central importance to OpenProject and are one of the main motives for the development of this open source software. OpenProject aims to become a lighthouse project for "Data privacy made in Europe". Find out more about OpenProject on openproject.org or follow @openproject on Twitter.
Links
Press Contact
Birthe Lindenthal
Head of Marketing and PR
Phone: +49 30 288 777 07
b.lindenthal@openproject.com
GPG: 147F B27A C5C6 05CB 32A4 8D58 F6D8 29F4 BB22 B522