Malheureusement, ce document n'est disponible qu'en anglais pour le moment. Nous travaillons sur une traduction, merci pour votre compréhension !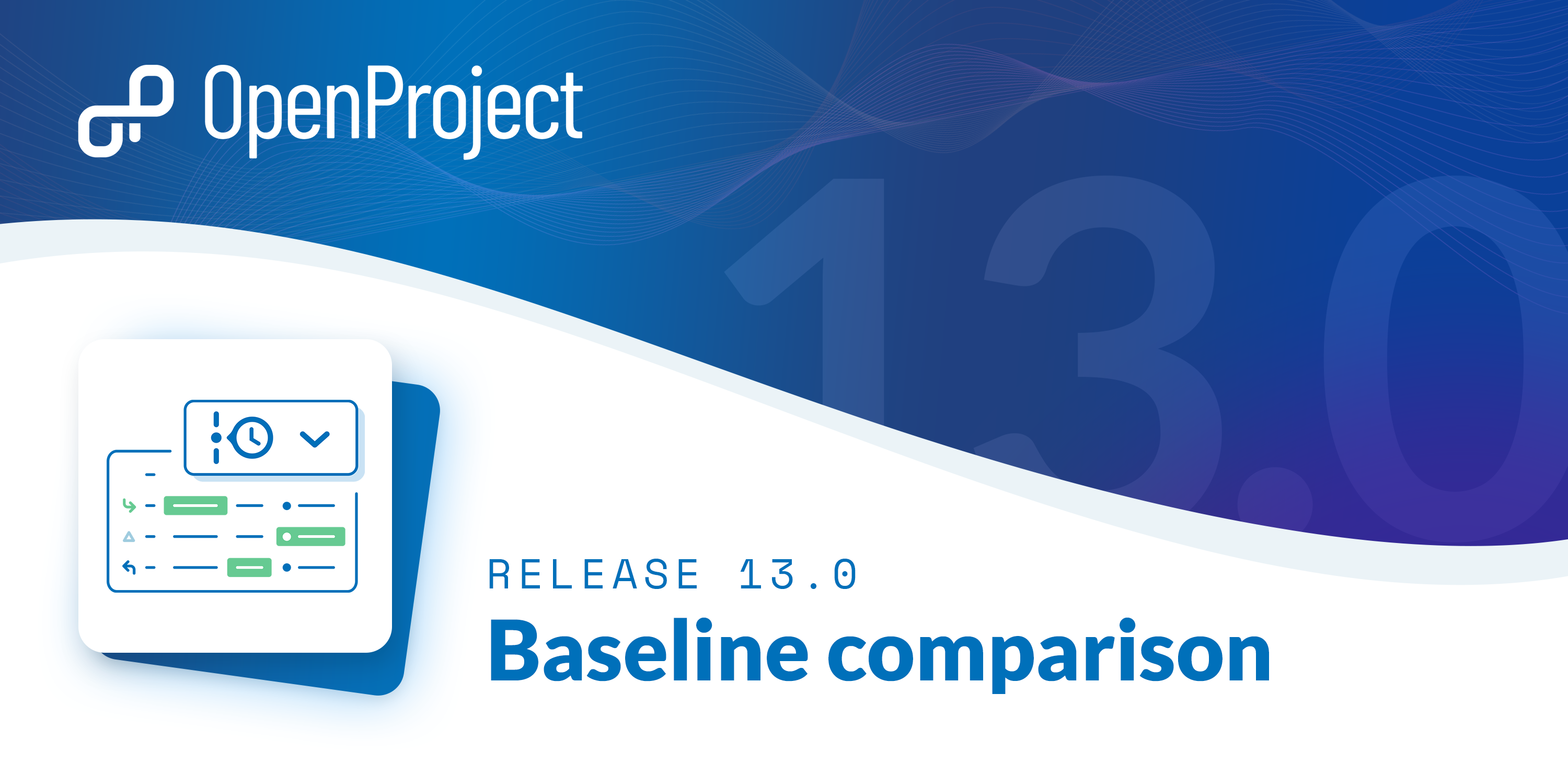 PRESS RELEASE 21st August 2023

OpenProject 13.0: Baseline comparison and project folders for Nextcloud integration.
Berlin, August 21 2023 – Version 13 of the web-based open source project management software OpenProject brings new project management features and enhances the integration with the open source content collaboration platform Nextcloud.
With the new version 13.0, OpenProject introduces a project baseline that makes it possible to visualize changes to work packages in projects. With this new feature, project managers can quickly report status and progress in a project. A planning comparison of changes to yesterday is part of the free-of-charge Community version. Comparing changes to a specific point in time, date or between time periods is an Enterprise feature and included in the paid Enterprise version of OpenProject.
In addition, more improvements are coming for the integration with Nextcloud. Until now, it was quite complicated to manually manage the access to files and folders in Nextcloud for all project members. With the introduction of project folders, this is now much easier. For each project, a separate project folder can be set up in Nextcloud, which automatically grants the appropriate permissions to all project members. This feature enables another major improvement, namely the creation of project templates with project folders that already contain predefined folder structures with file templates, which in turn can be linked to work packages. When a project or template is copied, the folder is copied with all subfolders, file templates and work package links.
"We are currently working on the release of openDesk 1.0, formerly known as Sovereign Workplace. Many of these new features were co-funded by the German Federal Ministry of the Interior and Community (BMI) as part of the reference implementation for the public administration. We strongly believe that an alliance of strong open source companies is the only right way to ensure sovereign and privacy compliant work for the public sector. These open source developments in turn benefit a broad user Community, in line with the #PublicMoneyPublicCode principle."
– Niels Lindenthal, Founder and CEO at OpenProject GmbH
A new PDF export of work packages allows project managers to create up-to-date and nicely formatted project management reports and share them with the team and other stakeholders, such as deliverables or requirements documents. These no longer must be created and edited manually in word processing documents.
One of the most frequently expressed wishes from the OpenProject Community was a calendar integration. With 13.0 it will be possible to subscribe to an OpenProject calendar and integrate all important work packages and milestones in a personal calendar (which supports the iCalendar format). Furthermore, the recording of working time is simplified with a new time tracking button. When you click on the button, an automatic timer is started. As soon as this is stopped, the time spent is booked directly to the work package that was worked on.
13.0 also publishes an existing Enterprise feature to the Community. Creating custom fields with multiple selections will now be available as part of the Community version.
About OpenProject
OpenProject is the leading free and open source project management software. Its vision is to empower project teams to achieve great things together for the good of society.
OpenProject supports classic, agile as well as hybrid project management along the entire project life-cycle. Its team is specialized in the continuous development and improvement of the open source software, delivering an up-to-date, secure project management software, as well as maintaining an active and involved community. The software is available as both cloud and on-premises version. OpenProject is part of the reference implementation openDesk - The Sovereign Workplace on openCoDE.
Organizations across all industries and sizes use OpenProject due to its high commitment to data protection and information security. These are of central importance to OpenProject and are one of the main motives for the development of this open source software. OpenProject aims to become a lighthouse project for "Data privacy made in Europe". Find out more about OpenProject on openproject.org or follow @openproject on Mastodon.
Links
Press Contact
Birthe Lindenthal
Head of Marketing and PR
Phone: +49 30 288 777 07
b.lindenthal@openproject.com