Por desgracia, este documento solo está disponible en inglés actualmente. Estamos trabajando en su traducción, ¡gracias por su comprensión!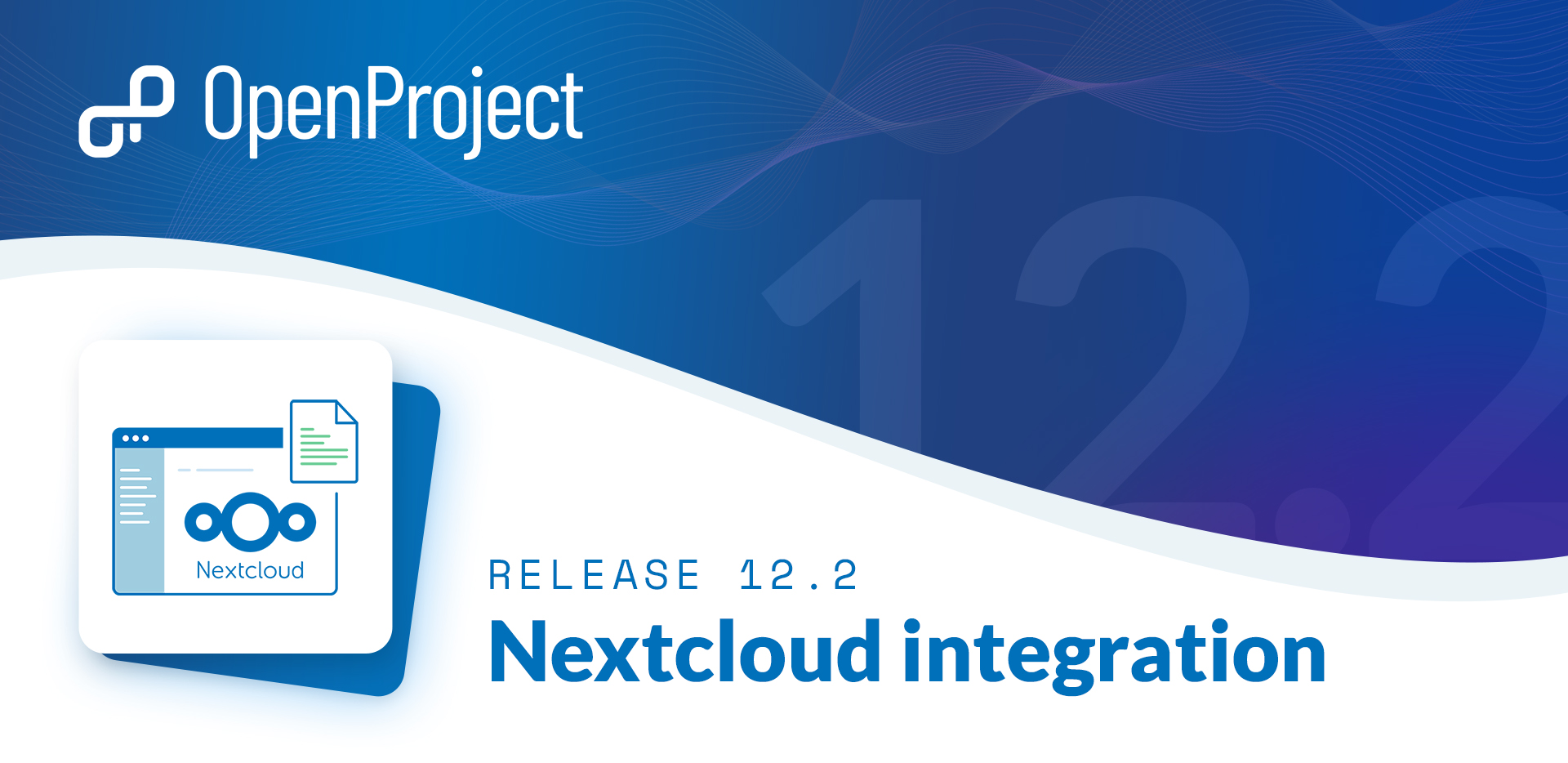 PRESS RELEASE August 15, 2022

OpenProject 12.2 introduces Nextcloud integration for file management
Berlin, August 15, 2022 – OpenProject, the leading free and open source project management software, and Nextcloud, the company behind the worlds' most deployed on-premises content collaboration platform, announce further integration efforts. The integration will improve the productivity and will ensure data sovereignty of their enterprise users. The development of the open source software is sponsored by two mutual customers, the City of Cologne and the University of Duisburg-Essen in Germany, who expect to gain benefits from linking work packages to project-related files. A deeper integration of project folders including predefined folder structures has been agreed upon until the end of the year and has been commissioned by the Office for Information Processing of the City of Cologne.
We are developing open source project management software to change the way how people collaborate. What really connects Nextcloud and OpenProject is our strong commitment to data sovereignty and data privacy in Europe. The integration will closely integrate project management and file management, and customers will benefit greatly. They can rely on a secure set-up without giving data to foreign SaaS providers. It fills me with great joy to work with such a strong partner from the open source community who shares the same motivation.
– Niels Lindenthal, Founder and CEO at OpenProject GmbH
In the wake of rising concerns about digital sovereignty, enterprises are increasingly relying on on-premises productivity solutions. The integration brings various benefits, both on OpenProject and Nextcloud side:
No more searching for project-related files. Users can find project-related files directly in the respective work package in their project in OpenProject and always have the correct version at hand.
Linking files in Nextcloud to project-related work and check from Nextcloud which work packages in a project are related to certain files.
Keep an eye on relevant project updates related to linked files via the Nextcloud dashboard and search for work packages in Nextcloud.
Retaining close control of content to avoid risk of non-compliance or data leaks.
Enterprises require efficient, well integrated platforms that put their users' productivity first, empowering them to access and work with their data and communicate wherever they are. At the same time, control over data flows and compliance are key concerns to our common customers. This exciting partnership will enable more efficient collaboration and we look forward to further results of our integration efforts and how our customers will be able to benefit from these.
– Frank Karlitschek, Founder and CEO at Nextcloud GmbH
The integration is available starting with Nextcloud 22 and OpenProject 12.2 and can be found in the Nextcloud app store, and being configured in OpenProject's system administration. In collaboration with mutual customers, further integration efforts are under way which include the complete linking of project folders from OpenProject to Nextcloud.
More features in 12.2
Moreover, scheduling in OpenProject 12.2 got much better thanks to an improved date picker. Amongst others, a warning banner is added that provides information when changing dates of a work package that has relations with other work packages. Also, with OpenProject 12.2 OpenProject is launching another feature that has been requested by many users. It is now possible to log time for other users.
Information on all new features and changes can be found in the release notes.
About Nextcloud
Nextcloud Hub is the industry-leading, fully open source, on-premises team productivity platform, combining the easy user interface of consumer-grade cloud solutions with the security and compliance measures enterprises need. Nextcloud Hub brings together universal access to data through mobile, desktop and web interfaces with next-generation, on-premise secure communication and collaboration features like real-time document editing, chat and video calls, putting them under direct control of IT and integrated with existing infrastructure.
Nextcloud's easy and quick deployment, open, modular architecture and emphasis on security and advanced federation capabilities enable modern enterprises to leverage their existing file storage assets within and across the borders of their organization. For more information, visit nextcloud.com follow @nextclouders on Twitter.
About OpenProject
OpenProject is a free and open source project management software and is released under GPLv3. OpenProject supports both classic project management and agile project management. The community version is available for free and can be installed via .deb and .rpm packages as well as Docker images. A completely manual installation is also possible. For enterprise customers, Berlin-based OpenProject GmbH offers a hosted Enterprise cloud version as well as an on-premises version, both with support, Enterprise add-ons, and additional security features.
Organizations across all industries and sizes use OpenProject due to its high commitment to data protection and information security. These are of central importance to OpenProject and are one of the main motives for the development of this open source software. OpenProject aims to become a lighthouse project for "Data privacy made in Europe". Find out more about OpenProject on openproject.org or follow @openproject on Twitter.
Links
Press Contacts
Nextcloud GmbH
Jos Poortvliet
Marketing Director
Phone: +49 (0) 171 121 7528
pr@nextcloud.com
GPG: E0E7 4838 9408 C925 A2D4 0398 FB08 10D4 00F7 E62C
OpenProject GmbH
Birthe Lindenthal
Head of Marketing and PR
Phone: +49 30 288 777 07
b.lindenthal@openproject.com
GPG: 147F B27A C5C6 05CB 32A4 8D58 F6D8 29F4 BB22 B522